How To Set Up A Facebook Business Page In 4 Simple Steps
If you own a small business and you aren't already on Facebook… then you need to be! Each day over 800 Million people are on Facebook. Yeah that's right, every day! Even if you only reach a fraction of that, I guarantee most of your friends and most of their friends have a Facebook account. So, it's not all about reaching across the world when setting up a small business Facebook page. The goal is to start getting the word out about new and exciting content that adds value to your customer's lives.
So anyway, let's walk through exactly how to set up a Facebook business page
First, click here to open Facebook and start creating a business page. Once there, you will want to choose a classification.
Step 1: Choose A Classification
There are 6 different business classifications for you to choose from. Be sure to choose the option that is the closest fit for your business. For Example, if you are a small local guitar shop in Missoula, MT you should probably choose local business.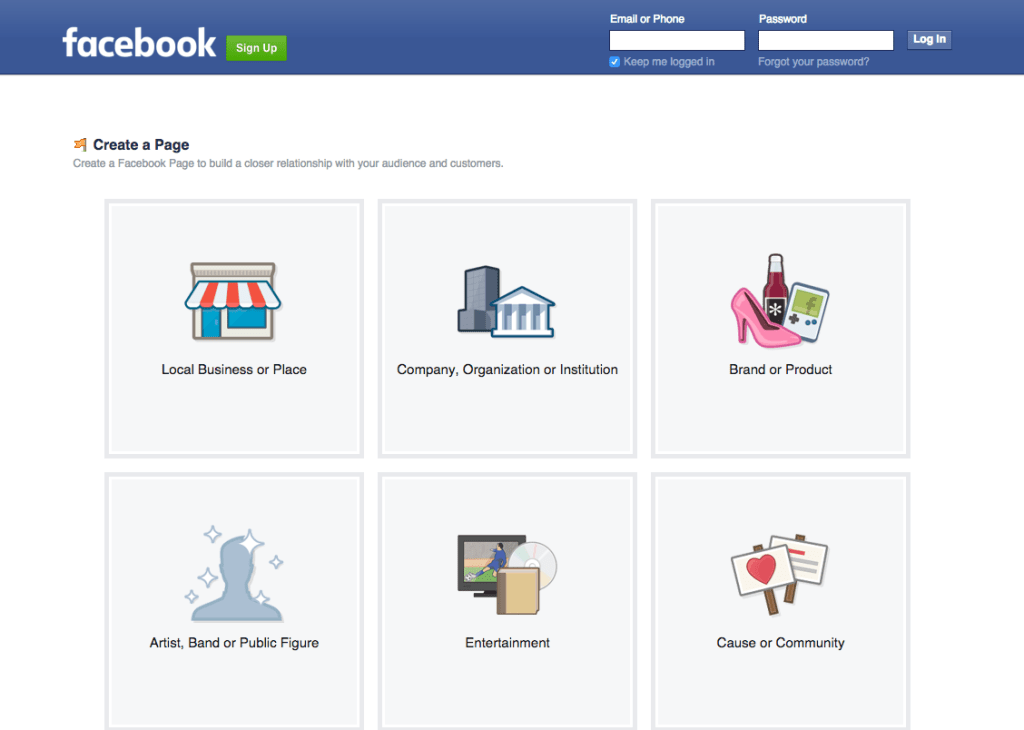 Ok, I think you get the idea.
Each classification will allow you to enter more information about your business. It's important to enter your information correctly, especial your business name. Facebook only allows you to change your business name once and it can be a very difficult process. So, don't make that mistake. Use your official business name spelled correctly. Also, make sure you are logged into Facebook when you start this process. Facebook requires you to be logged in when you create a business page. Simply log into your personal account to move forward.
Step 2: Fill Out Basic Information
You will need to complete the four basic sections of information that Facebook walks you through as seen bellow. This will tell Facebook users basic information about your business and set up some useful preferences.
About Section
The about section will be the first thing you need to fill out. Make sure it clearly and accurately describes your business. Doing so will help people find your business on Facebook. That means more traffic for you!
Facebook Business Page Photo
Next, you are going to need to upload a photo to your page. This photo will most likely be your logo.
NOTE: Facebook uses a square 180 X 180 pixel image as your profile picture. I recommend making a new logo specifically for your Facebook page if your logo does not appear both clean and visible when you view it on your browser.
For example, let's say your logo has a width of 250px and a height of 50px. When uploaded, that photo will fit perfectly on the left and right margins, but the top and bottom of the image will appear blank. In this case you may need to re-work your logo to better fit the Facebook dimensions. Often times it's useful to reduce the logo to it's basic parts. Leave out information that will be picked up by readers once they start reading further down your page.
Adding Your Page To Your Favorites
Add your page to your favorites to bookmark it on your news feed. This will give you easy access to your new Facebook business page.
Preferred Page Audience
Use your local business information to heighten your audience awareness!
Your Facebook Business Page is now live. It's time to spruce things up. You are going to need to fill out as much info as you can.
NOTE: Avoid liking your own page at the beginning. You are going to want to add some content before people start seeing your new page.
Step 3: Adding Info To Your Page
Now it's time to start adding your business info to your page. Things such as your hours of operations, telephone number, website address, etc. All of this information is going to help visitors learn more about your business. So, it's important to take some time and really fill this out.
Now, click on the settings tab in the top right corner of the screen.
Page Info
Here you will see a list of tabs on the left with options for adding info to your site. Choose the page info tab on the left to add details about your business.
Notifications
We recommend going to the notifications tab next to set up your preferences for being alerted to activity. The tab will be located under the Page Info tab from earlier.
Page Roles
This tab allows you to add access for different people on your account. This is great for letting someone else manage your account. Click here to contact a professional who can manage your Facebook Business Page.
Step 4: Begin Posting Content On Your Page
At this point, you need to add a cover photo to the top of your page. Your cover photo should be 851 x 315 pixels. Use something that is going to catch peoples attention. Studies show that when a person first looks at a web page, their eyes go toward images and not text. Then they move to text from there.
You can capitalize on this by adding a catch cover photo that get's people excited to read more on your page. You can use other companies for inspiration if you need.
It's Time To Create Your First Post
When people visit your Facebook Business Page, you want them to have something to interact with. It's never impressive when you get invited to like a business page that has one post which states, "This is our new Facebook Page. Please like us :)"
So, I recommend that you take a few days to publish five to ten pretty amazing posts. These posts should be a mix of different media styles.  Throw in some pictures, famous quotes, news about your business, thoughtful messages, and of course some video if you can.
Begin Inviting People To Like Your Page
Now that you have filled out your business info, uploaded your logo, and created some posts it's time to invite some people to start liking your page.
Let me share with you a very strategic way that you can go about doing this.
First: Invite colleagues to like your page just to build some initial activity
Second: Invite all of the wonderful supporters in your network and encourage them to engage with all of your content.
Third: Invite customers to like your page. Now that you have some content and some supporters, they will be more likely to like your page. Once they like your page, they will start to see your posts in their feed. This will allow you to connect with future customers almost automatically.
You just need to start posting some great content. At this point, you can begin creating your own content.
[bctt tweet="Add value to customers lives and they will read your content."]
Content Creation
This is going to be your main strategy for getting your brand in front of potential customers. Focus on creating content that is going to add value to your customers lives. This will keep them reading. That's pretty much the number one goal in internet marketing. The longer your customers read, the more likely they are to buy.
If you need someone to Manage Your Facebook Business Page, we would love to help out. Click here to get in contact with us.